Bomb/mine detection
The Vallon Company was founded in 1965.
Detector customization for all conditions in the world.
Many intellectual property rights, such as patents, utility models and design patents.
Vallon GmbH is certified to meet the international standard DIN EN ISO 9001:2008.
Vallon products fulfil the environmental standards MIL STD 810 E, F, G, is a registered NATO manufacturer, NCAGE code C1032.
Vallon mine detectors can be used in almost all soil and water conditions.
2.Wire/Cable Detector VR1 WIREHOUND
3.One-Piece Metal Detector VMH3
7.VX1 Ferrous Locator for Large Depths
1.Metal  detector VMF4

Top-Level sensitivity


Highly effective soil compensation


Mil-STD


Audio, visual and vibration feedback


Weight balanced with excellent ergonomy


Extremely compact for transport


Bluetooth ® interface


Integrated web-server


Communication with mobile devices through standard browsers


Integrated GPS automatic and manual triggering of waypoints


Carbon rod detection


Exchangeable search head
Product is offered in this region: Lietuva, Latvija, Eesti
_______________________________________
2.Wire/Cable Detector VR1 WIREHOUND

Suitable to detect wires of 10 cm length and more through high-end radar technology


Detection of wires independent of relative position of the wire to the search direction (crosswise or lengthwise)


Watertight search head with telescopic pole, hand grip with integrated control unit, electronics and extendable armrest


Simple operation with audio, visual and vibration feedback
Product is offered in this region: Lietuva, Latvija, Eesti
_______________________________________
3.One-Piece Metal Detector VMH3

Recommended for daily use


Handheld unit 2.5 kg only


Power supply: 3 D-size batteries


Metal alarm via:
    - Visual LED-bar graph
    - Audio signal
    - Vibration


Packing in soft case
Slim search head
NATO Stock Number 6665-12-366-9914

Options:


UXO search head 30 cm


UXO search head 60 cm


Stick probe


Different packing possibilities
Product is offered in this region: Lietuva, Latvija, Eesti
 _______________________________________
4.Dual Sensor Detector VMR3

Recommended for metal and metal-free mines and IEDs


Search head with metal detector (MD) and ground penetrating radar (GPR)


Easy operation


Power supply:
    - docking battery pack with Lithium polymer cells, rechargeable
    - docking battery compartment with 4 round cells D-size


Alarm via:
    - Visual via LED bargraph
    - Audio signal
    - Vibration


Rigid glass fibre reinforced housing


Adjustable armrest simple battery docking


Charger for 2 Lithium Polymer cells
    - 110 – 230 V AC and
    - 10 – 30 V DC (car battery)


Battery compartment for 4 round cells D-size


Rigid transportation case for detector with accessories and test pieces
Product is offered in this region: Lietuva, Latvija, Eesti
_______________________________________
5.Compact Metal Detctor VMW1

Extremely small retracted size (40x15x70 cm);


Watertight up to 30 m


Power supply: 3 C-size batteries


Metal alarm via:
    - Visual LED-bar graph
    - Audio signal


Non-magnetic headset


Packing in hard case
NATO Stock Number 6665-12-372-9198
Product is offered in this region: Lietuva, Latvija, Eesti
_______________________________________
6.Metal Detector VMXC1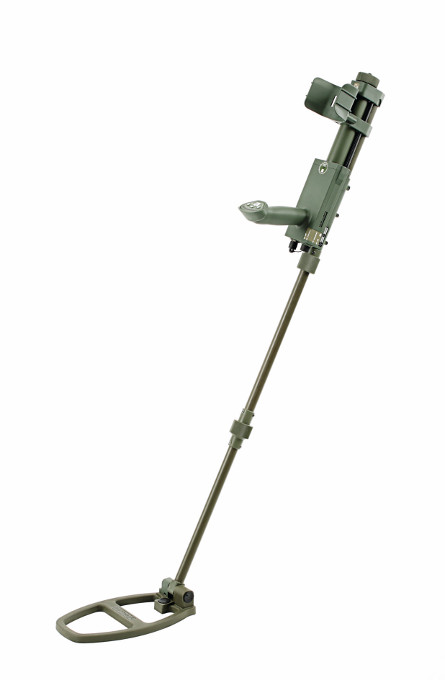 Slim search head


Handheld unit 2.5 kg only


Power supply: 3 D-size batteries


Metal alarm via:
    - Visual LED
    - Audio signal
    - Vibration


Packing in backpack, hard case (optional)
NATO Stock Number 6695-12-371-6201
Options:


30 cm search head


60 cm search head for deeply burled objects


2 x 2, 2 x 1, 1 x 1 m search heads
Product is offered in this region: Lietuva, Latvija, Eesti
_______________________________________
7.Ferrous Locator for Large Depths VX1

Land, water and borehole search


Handheld unit 3.5 kg only


Detachable control unit


Digital sensor, detachable


Alignment-free sensor tube


Ferrous alarm via:
    - Visual (LED)
    - Audio signal


Data output for computer-aided data survey via:
    - Bluetooth®
    - RS232
    - USB


Power supply: 4 bateries type D

Options:


Cable drum with integrated power supply for borehole search


Data logging with VALLON field computer VFC2 and VFC2-N


Data evaluation with software VALLON EVA 2000®


SEPOS® Borehole
Product is offered in this region: Lietuva, Latvija, Eesti
_______________________________________
8.Vallon EVA 2000® 2.X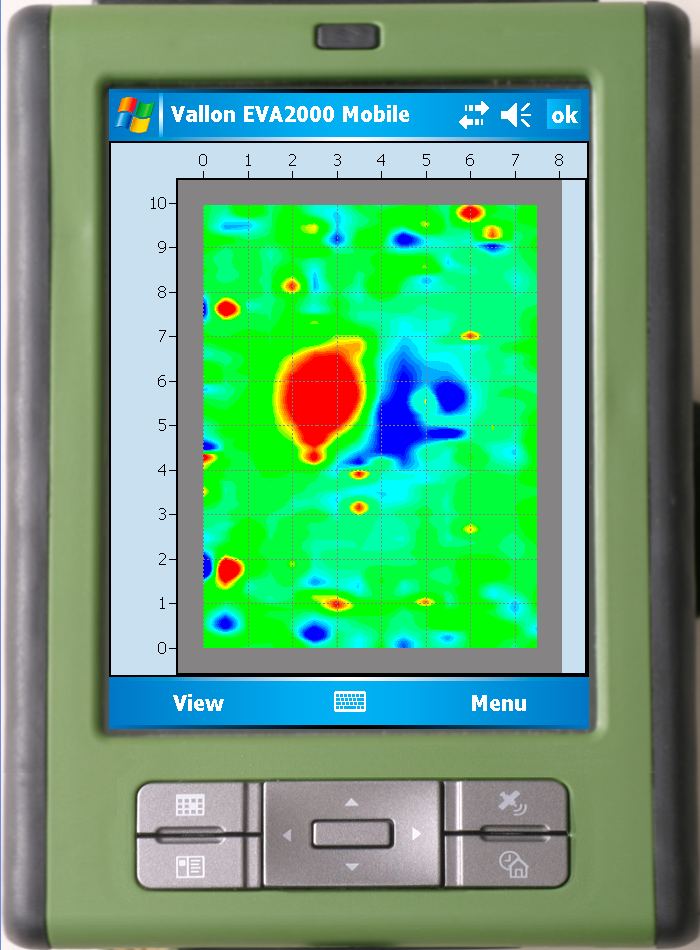 Allows the real time navigation of single sensors or sensor platforms with different types of sensors and GPS


The calculated objects are shown in different colours for each sensor type


Display in grids and tracks


Colour map,also combined with data of ferrous locators and metal detectors;


Measuring curve of each borehole


Object list with magnetic values and position data


Converter allow exchange with: .xyz (Geonics), .txt (Foerster), .kml (Google Earth™), .dxf (AutoCad®), .csv and .mdb (ArcGIS), Magneto®, and Geosift Oasis Montaj®


VALLON EVA 2000® 2.X can handle background maps or background pictures together with the display of data, tracks and navigation
Product is offered in this region: Lietuva, Latvija, Eesti
_______________________________________
9.Carrying system VXP3

Land survey with 3 or 4 ferrous sensors via central unit VCU2


Non-magnetic frame


Distance between ferrous sensors:
    - 0,5 m (3 sensors) or
    - 0,33 m (4 sensors)


Alignment-free sensor tubes


Data output for computer-aided data survey via:
    - Bluetooth®
    - RS232


Power supply: recharable battery pack


GPS (optional)


Data evaluation with software VALLON EVA 2000® 2.X (optional)
Options:


For time saving ground survey with up to 4 or 8 sensors
Product is offered in this region: Lietuva, Latvija, Eesti
_______________________________________