Narcotics, Explosives and Chemical materials detection (ETD)
IONSCAN 500DT
Tabletop explosives trace detector, simultaneously detects explosives and narcotics on baggage
IONSCAN 600
Tabletop explosives trace detector with non-radioactive source, simultaneously detects explosives and narcotics
MMTD
Rugged, handheld detector for simultaneous detection of explosives and narcotics with capability to detect and identify chemical warfare agents and toxic industrial chemicals
SABRE 5000
Next generation handheld tri-mode threat detector featuring expanded vapor detection capability giving a wider range of substance identification
IONSCAN 500DT
Feature Highlights

Simultaneous detection of explosives and narcotics


Over 40 substances detected and identified in 8 seconds


Large touch-screen color display


Internal data storage


Certified for ECAC performance standard for ETD for passengers and cargo
Options


Transportation case
The IONSCAN 500DT fills the growing need of security professionals to have the ability to detect a wide range of substances and to be able to adapt as threats and their needs change. By incorporating two IMS detectors in a single unit, the IONSCAN 500DT is capable of detecting and identifying explosives and narcotics during a single analysis, giving you the ability to detect a broader range of substances while maintaining the high sensitivity and specificity you expect from Smiths Detection.
The IMS detectors in the IONSCAN 500DT are the same as in the IONSCAN 400B, of which over 6000 are in use by aviation security, government and law enforcement agencies, the military and by private security companies.
This dual detector system is ideal for any security application. Aviation security personnel and the military will benefit from the capability to detect a much broader range of explosive substances. Customs, coast guard and border crossing agencies that require the ability to detect both narcotics and explosives from a single sample will be able to execute their duties utilizing one instrument. Facility security professionals will be aided in better protecting access points to commercial buildings, courthouses and correctional facilities, with the ability to detect multiple threats with one instrument.
With the increased internal memory, more analysis results can be stored. These results can be printed with the built-in printer and exported via the USB port. The software also allows advanced operators the capacity to further review and analyze results.
Specifications
Technology
Dual Ion Mobility Spectrometry (IMS) technology
Operating modes
Explosives/Narcotics simultaneous, Explosives only, Narcotics only
Explosives detected
RDX, PETN, NG, TNT, HMX, TATP and others
Narcotics detected
Cocaine, Heroin, Amphetamine, Methamphetamine, MDA, THC and others
Sensitivity

Explosives: picogram range
Narcotics: sub-nanogram range

Analysis time
5-8 seconds
Product is offered in this region: Lietuva, Latvija, Eesti
_______________________________________
IONSCAN 600
Feature Highlights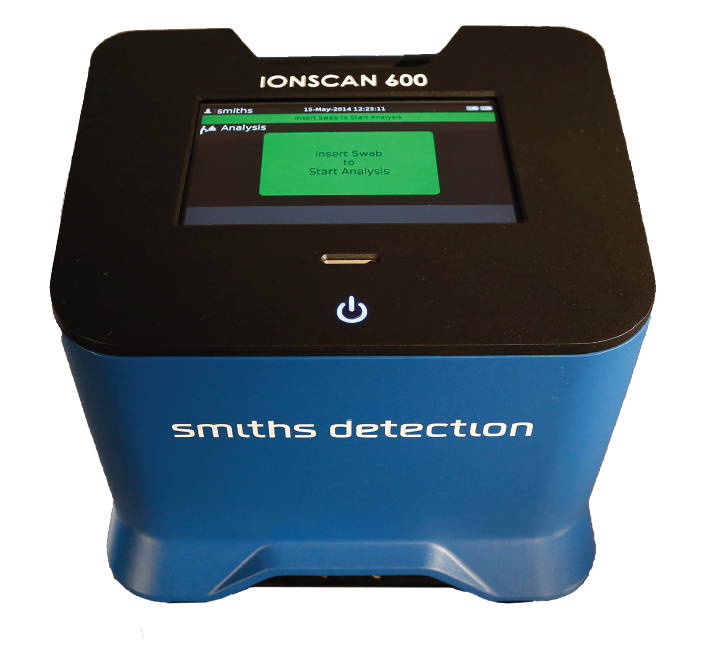 Non-radioactive IMS source


Easy to use interface requires minimal training


Small, lightweight and portable


Fully operational, hot-swappable battery


Single-use manual swabs


Supports USB and LAN printers


Available in single Explosives, single Narcotics and Dual mode


Certified for ECAC performance standard for ETD for passengers and cargo (Only single mode Explosives with and without integrated printer version)
Options


Sampling wand


Integrated printer


Extrnal battery charger
The IONSCAN 600 is a next-generation, portable desktop system used to detect and identify trace amounts of explosives and Narcotics. It features a proprietary non-radioactive ion mobility spectrometry (IMS) source, which means no licensing or specialized handling is required for use.
Universal software icon commands make training and operation of the IONSCAN 600 fast and easy. Onboard diagnostics also assist operators with maintenance and offer troubleshooting for error resolution.
Sampling is vastly improved and done manually with cost-effective, single-use swabs, or with an optional low-cost, redesigned wand.
The IONSCAN 600 is optimized for minimal maintenance and features a robust design to help enhance productivity.
Weighing just 11 kg, the IONSCAN 600 features a built-in handle (in case no integrated printer option) that provides easy portability. A hot-swappable battery provides sampling and analysis capability while still in use. The system also offers unmatched performance throughout extreme temperature ranges.
IONSCAN 600 uses Smiths Detection's IMS technology, proven and trusted for the sensitivity needed in the detection and identification of a wide range of military, commercial and homemade explosives threats and narcotic materials.
Specifications
Detector type
Non-radioactive IMS source
Sample collection
Trace particle
Calibration
Automatic internal self-calibration
Alarm method
Substance identification with configurable audio alarm
Consumables

Low cost single-use swab, verification pen

Expandability
4 USB 2.0 (2 front/2 back), 1 USB 3.0 (back)
Connectivity
Ethernet, HDMI, Wi-Fi option, 4 USB 2.0 (standard, 2 front/2 back), 1 client USB 3.0 (micro, back)
Weight
10.43kg (11,5 kg integrated printer version)
Battery
1 hour back-up mode, 20 minutes full operation, hot swappable
Analysis time
8 seconds or less
Warm-up time
Less than 10 minutes
Data display
9" high resolution, anti-reflective, color touch screen
Dimensions
37.1 x 29.0 x 32.5cm
 
38.3 x 39.5 x 37.7cm integrated printer version
Operating temperature
-10 to +50°C
Operating altitude
4200m
Operating humidity
0 to 95% non-condensing
Explosives detection
Military, commercial and HMEs (RDX, TNT, PETN, NG, AN, UN, HMTD, TATP, EGDN, Tetryl, HMX, Sulfur, TNB, DNT and others)
Narcotics detection
Amphentamine, Cocaine, Heroin, Ketamine, MDA, MDMA, Methamphetamine, Buptenorphine, THC and others
Printer
External or Internal
Power
90-264 VAC, 47-63 Hz
Other
Optional sampling wand, no hazardous parts, tamper proof
Product is offered in this region: Lietuva, Latvija, Eesti
_______________________________________
MMTD
Feature Highlights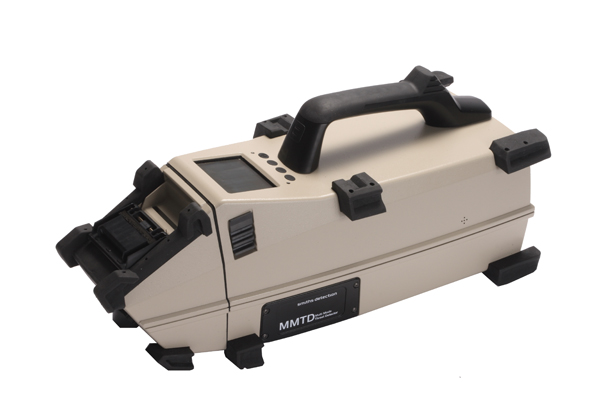 Rugged hand-held detector that identifies of explosives, narcotics, toxic industrial chemicals and chemical warfare agents in one system


Simultaneous detection and identification of explosives and narcotics from a single sample


Proprietary scan sequencing to detect conventional and home‑made explosives


Truncated alarm for faster clear down
Kitos ypatybės


Remote, unattended operation capability with Wi-Fi/Ethernet


Intuitive, easy to use interface using a Windows® CE based platform


Unlimited data storage via SD memory card


Up to 5 hours of uninterrupted operation with hot-swappable battery


Integrated USB
The Multi-Mode Threat Detector (MMTD) takes portable threat detection to a new level without compromising portability or functionality. Designed to IP54 rating for operation in extreme environmental conditions, the MMTD is a rugged, portable hand-held system for the rapid detection and identification of explosives, narcotics or CWA/TICs, featuring an optimized detection capability for peroxides, taggants and methamphetamine precursors.
Four operating modes are available, including a dual mode setting for simultaneous detection of explosives and narcotics from one sample. Operators can also quickly switch between particle or vapor analysis methods to utilize the best method for detecting the suspected threat.
Other features include up to five hours of uninterrupted operation with the two hot‑swappable batteries (included); remote, unattended operation for one or more units with alarm and status information reported to Command & Control via Wi-Fi/Ethernet; unlimited data storage via SD card; and USB port for exporting results. The included software allows advanced operators to perform more in-depth data analyses and print results via network connection.
The MMTD is for anyone who needs a hand-held system to detect a broad range of threats. Its tough exterior design is ideal for the soldier on the front line and the security agent working in harsh elements (e.g. Border/Ports). Its wide range threat detection capability and portability makes it ideal for aviation, special event and border security.
Specifications
Technology
Ion Mobility Spectrometry (IMS)
Sample Collection
Trace Particle and Vapor
Operating Modes
Simultaneous Explosives/Narcotics, Explosives only, Narcotics only, Chemical Warfare Agents/Toxic Industrial Chemicals
Explosives Detected
RDX, PETN, TNT, TATP, NG, H202, EGDN and others
Narcotics Detected
Cocaine, Heroin, Methamphetamine (including precursors), THC and others
CWA
Nerve and blister agents such as Tabun, Sarin, Soman, Cyclosarin, Agent VX and Vx
TIC
Hydrogen Cyanide (HCN), Phosgene, S02, NH3 and others
Sensitivity
Particle: low nanogram (ng) range. Vapor: low parts per million (ppm) range
Analysis Time
<10 sec.
Battery Operating Time
5 hours (with two 2.5 hour hot-swap batteries included)
Product is offered in this region: Lietuva, Latvija, Eesti
_______________________________________
Sabre 5000
Feature Highlights: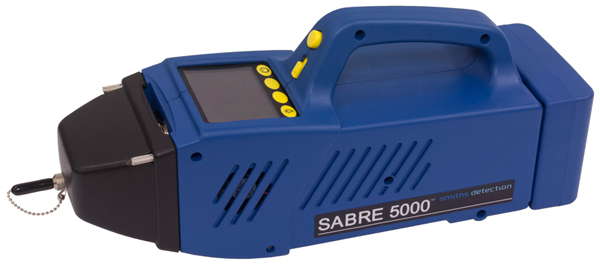 Smallest, lightest tri-mode (Explosives, Narcotics, CWA/TICs) detector available


Optimized detection of peroxides (used in home-made explosive devices) in vapor mode


Faster clear down with truncated alarm


Self-diagnostics with maintenance


Continuous automatic vapor sampling in both positive and negative modes for CWA/TIC detection


Protective cover with shoulder strap


2 hour battery

Using Smiths Detection's proven Ion Mobility Spectrometry (IMS) technology the SABRE 5000 is programmed to detect and identify over 40 threat substances in approximately 20 seconds. Threats such as common peroxide-based, volatile and unstable chemicals often used to construct IED and ammonium nitrate commonly used in home-made explosives.

The SABRE 5000 is capable of analyzing either trace particle or vapor samples. The operator can select the best analysis method for the suspected threat to yield the most accurate analysis results. Switching between sampling modes takes seconds.

The ASV-Explosives mode offers optimized detection in both negative and positive mode for an increased range of explosives detection.
Specifications
Technology
Ion Mobility Spectrometry (IMS)
Sample Collection
Trace Particle and Vapor
Operating Modes
Simultaneous Explosives/Narcotics, Explosives only, Narcotics only, Chemical Warfare Agents/Toxic Industrial Chemicals
Explosives Detected
RDX, PETN, TNT, Semtex, TATP, NG, Amonium Nitrate, H202 and others
Narcotics Detected
Cocaine, Heroin, Methamphetamine (including precursors), THC and others
CWA
Nerve and blister agents such as Tabun, Sarin, Soman, Cyclosarin, Agent VX and Vx
TIC
Hydrogen Cyanide (HCN), Phosgene, SO, NH and others
Sensitivity
Particle: low nanogram (ng) range. Vapor: low parts per million (ppm) range
Analysis Time
Detection in 10 sec., complete analysis in 20 sec.
Battery Operating Time
2 hours
Product is offered in this region: Lietuva, Latvija, Eesti
_______________________________________
You can also find some other models for CWA and TIC detection in military section