People screening (SSc)
UAB MTS "Novatex" is an official dealer of manufacturing company Smiths Heimann GmbH (part of Smiths group) throughout the Baltic states. Companie's produced X-ray inspection systems are customer's recognised as one of the best in the world.
Smiths Detection is a world leader in detection and identification technologies, specialising in screening systems for the detection of illegal and dangerous items. Our solutions focus on a combination of multiple, complementary technologies to provide a layered approach to security.
Smiths Detection offers a range of people screening systems with applications across a multitude of environments.
eqo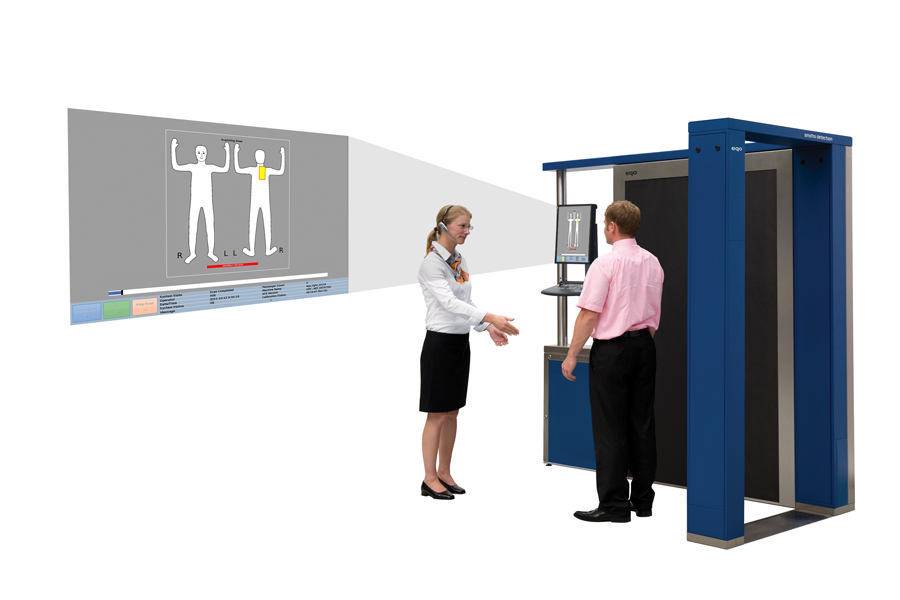 Automatic detection – full privacy solution

Multi material detection; metals, ceramics, plastics, liquids, etc.

Operational cost savings – less staffing, infrastructure, training

Increased throughput with faster processing time

Minimal footprint – allows for easy checkpoint integration

Sertified ECAC SSc Standad 2 Type A
eqo is an innovative solution to people screening. Using its unique flat-panel millimetre-wave technology, this body imaging security scanner offers state of the art screening and detection capability within a minimal footprint.
The 3D scanning system provides a rapid means of detecting concealed threat objects. The automated detection capability dispenses with the need for operators to review a millimetre-wave image, thus providing full privacy for the person being screened. A generic graphical representation of the person is presented to the operator. The system software detects concealed objects and indicated their location with a marker on the appropriate part of the graphical display. This feature both simplifies the scanning procedure and also speeds up the overall process.
The combination of a small footprint with a configurable panel orientation means the body imaging security scanner can be easily integrated into any current checkpoint configuration.
The open plan design offers a positive user experience and facilitates ease of communication between the operator and person being screened. The simple operation of the system provides full all round screening ensuring concealed items are easily detected by the system.
Additional features included as part of the automatic detection environment include:
Combined Search/Scan – the ability to scan new people while alarms on a previous person are being resolved
Random Alarm Procedures – the system can introduce additional screening procedures to add further security layers to the process
Process Checking – to ensure correct CONOPS are being used
Audio Alarms – to assist operators in the process
The eqo people scanner is ideally suited for applications such as aviation checkpoints and other security critical areas, where access restrictions apply, i.e. public buildings, correctional facilities, courts etc.
Product is offered in this region: Lietuva, Latvija, Eesti
_______________________________________
B-SCAN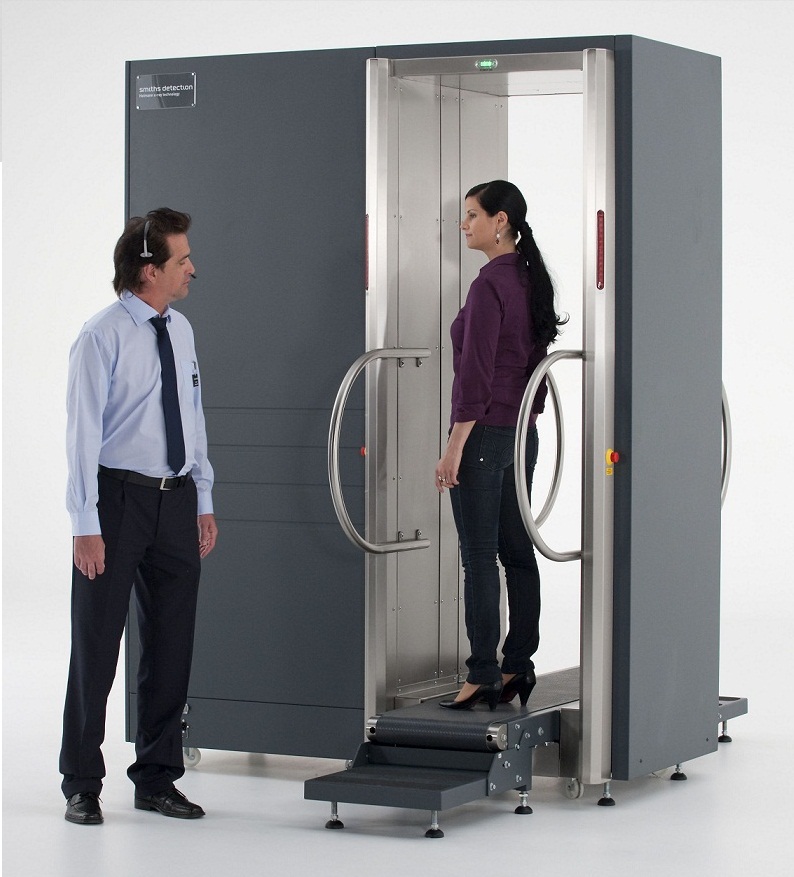 Detects objects concealed internally or externally on the body

Contraband and threat detection including weapons, explosives, narcotics etc.

High throughput – scan time less than 7 seconds

Complete head to toe inspection even if shoes are worn

Very low radiation dose <0.1 μSv/scan
Smiths Detection's B-SCAN series offers a leading edge security solution to people screening enabling the detection of objects concealed internally or externally on the body. Adding this layer of screening technology to a security portfolio will help reduce smuggling of drugs, guns, knives and cell phones and other contraband. The new B-SCAN series offers several configurations, to meet varying customer requirements. B-SCAN uses fixed X-ray components resulting in an uncomplicated, easily maintained reliable mechanical construction with a low cost of ownership during its lifetime.
In a non-intrusive single pass, using a smaller dose than backscatter X-ray, the B-SCAN provides a high-resolution, head-to-toes image of the person in less than seven seconds. Image enhancement tools then provide the operator with information to quickly and accurately evaluate the image for concealed objects.
Smiths Detection currently has more than 100 B-SCAN systems deployed around the world in a variety of applications such as prisons, airports and customs checkpoints. They are also being used in mines and refineries to stop employee theft of diamonds, gems and precious metals.
Product is offered in this region: Lietuva, Latvija, Eesti
_______________________________________